Mandala drawing: The Flower of Life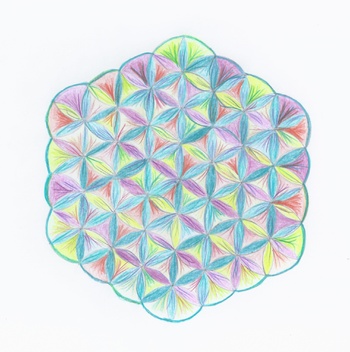 Therapeutic Mandala drawings in Alvor or Lagos, Portugal
Mostly on Saturday afternoon, generally starts between 14h and 15h. For details please check out (Facebook, the calendar or just text or call)
The Travelling Angel - De Reizende Engel
The workshop generally lasts 2h to 2,5 hours.
About pricing:
In Algarve there is often use of the "sliding scale". There is a minimum to be paid, but you can also give more. The sliding scale for the mandala drawing is mentioned in the posts which are publicized on Facebook and via Telegram; https://t.me/AlgarveHealth or https://t.me/AlgarveCreative (send your request to be added to the group)
Paper, compass and pencils (120 colors) are provided.
This Flower of Life is practiced more and more as you can do it home for yourself too.
In group there is often a 'theme' which is shared, and 'worked' on in the moment.
It is also a FUN thing to do, 'working your self', taking your drawing home as a reward, and be proud of it!
Just contact me if you would like to do GRANT YOUR SELF this wonderful fime!